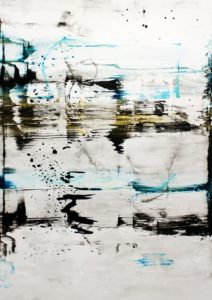 I am a lucky girl , today I get to talk to Nicola Parente.  Nicola has a long list of accomplishments, shows and other accolades  including being the recipient of Houston Luxury Magazine's  " Best of the City" Artists to watch,  a solo show at Museo de Guadalupe, in Mexico, multiple community art projects including 'Poet Trees' in collaboration with Writers in Schools, to mention a small sampling of the multiple projects he has been involved with creating work and beautifying our awesome city.   Nicola works in a variety of mediums including a recent project in textiles, you can hear him talk about that project scheduled to debut during London's fashion week.  Please… I insist,  you must visit his website, one of the best, to see his outstanding work and peruse the many accomplishments.  Nicola, with artist Tami Merrick, " have developed, Art UNITI  , where they are interested in public art projects that are either temporary or permanent they engage community activities as part of our project process.  Their mission is to create site specific installations which address client goals and promote public participation and awareness of the arts.  Art Uniti engages and employs other artistic talents as may be needed for a specific project, their most recent project was a mural (5′ x 15′ that was created for the interior of a new Kroger in Riverstone Sugarland.)  This project was in collaboration with artist Tracey Meyers with technical support from Robert Alexander and Garry Nguyen " ( courtesy  nicolaparente.com) .
Nicola is represented by Gremillion Gallery 2501 Sunset, Houston, TX
Visit Nicola's latest installation at the Riverstone Sugarland Kroger.
Thank you Nicola for coming on the show today, I liked to mention too that Nicola is a very sweet, nice person and I am very grateful he took time to have a lovely chat.
nicolaparente.com
Winter Street Studios  Studio 15
artuniti.com
Instagram: artistnicolaparente
email: nicola@nicolaparente.com
grimillion.com
7139226327

Podcast: Play in new window | Download
Subscribe: Google Podcasts | RSS | More