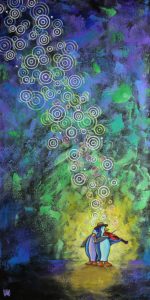 April Murphy makes what she calls "feel good art" , vibrant colors,
story filled compositions, and lots of sweet cats, dogs, penguins, and more!
April and I had a great conversation on this podcast, she talks about the evolution she went through to become a full time professional artist.   April has a studio at Winter Street Studios in the lower level B3 and has been  instrumental in developing the thriving art community that exists today within the Sawyer Yards Arts Complex.  She has her studio open every 2nd Saturday 12-5.  She has been the featured artist at Bayou City Arts Festival and participates in many art markets in Texas and across the country.  Visit April in her studio, or visit her website to see more images of her very colorful 'happy' art.  Visit:   www.AprilMurphy.com  MAKE sure you visit her on Sept 7, 2018  to support the Dog Lodge Sanctuary. April Murphy, and friends will have an exhibit in the Winter Street Gallery upstairs 6-9.  Don't miss it!
2101 Winter Street Studio B3
Houston, TX 77007
713 816 2877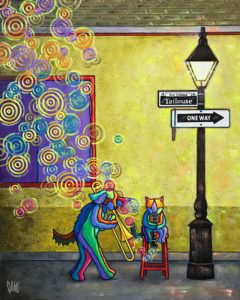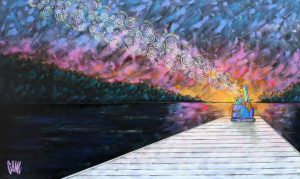 Podcast: Play in new window | Download
Subscribe: Google Podcasts | RSS | More